Chapter 14: "Anita and the She-Wolves" (Frontcover)
In English and Swedish!
<< Previous Chapter NEXT PAGE > Archive
---
Summary :
When Lollo and Lena get married and move out to live with their husbands, the she-wolves move in with Anita in their stead - but can they be trusted?
If this adventure is to exiting for you, you can choose among other chapters in the archive!
---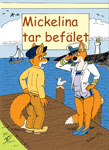 << Previous Chapter Archive Next Chapter >>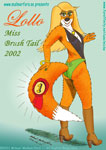 ---
If you don't like foxes you might prefer my other comic...