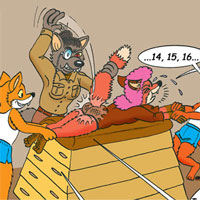 "How to become a Very Naughty Vixen"
or
"Verity Vixen's Spanking-Inferno"
Verity Vixen's (probably strongly exaggerated) version of her encounters with her gymteacher FRAU SPANKENSTEIN!
In English och Swedish!
Advisory Warning: Very Silly Story - Not Suitable for ANYONE!
Contains Animal Cruelty and Artistic Nudity! May contain traces of Naughtiness...
Do not say that I didn't warn you...

---
Copyright © Mikael Malmerfors 2013. All rights reserved. Med ensamrätt.
---